Ten Steps to Prevent the Great CoronEx-it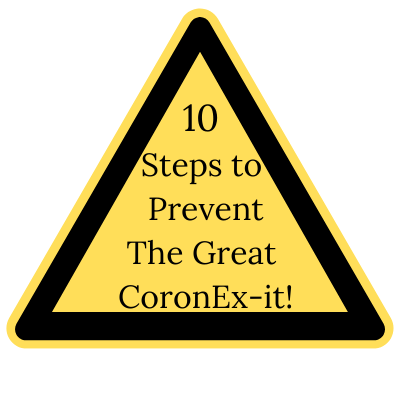 National Mental Health Month is an opportunity for organizations to analyze a new host of challenges that have manifested since the onset of the COVID-19 pandemic, including the "Great Resignation." Since spring 2021, about 33 million Americans have quit their jobs. Some resign from their positions to fulfill their caretaking duties while others are trying to mitigate risks associated with the pandemic. There are also capable workers who simply desire to feel more valued by management and leaders of their organizations, and those who just need a break. For organizations to remain competitive, fill open positions, and retain and engage existing staff, it is critical to recognize the pervasive feeling of burnout experienced by many, especially since the onset of COVID-19. While we have been waiting over the past two plus years for our lives to resume, Americans have experienced an increase of fear, depression, and anxiety.
CoronEx and Burnout
Increased mental health issues may be due to a specific kind of burnout, "CoronEx," or "COVID exhaustion," a term coined by behavioral science research regarding the long-term effects of pandemic-induced fatigue. In order to stay competitive, organizations need to recognize and care for the whole health of their employees, most especially their mental health. 
Because of CoronEx, employees may be feeling increased burnout. The Mayo Clinic defines burnout as "a state of physical or emotional exhaustion that also involves a sense of reduced accomplishment and loss of personal identity." Data from the American Psychological Association confirms that there has been an uptick in burnout since the beginning of COVID-19. Employees experiencing burnout may demonstrate increased cynicism and/or irritability; lack of motivation and/or energy; difficulty concentrating; lack of satisfaction, pervasive feeling of disillusionment; increased numbing behaviors with food, drugs, and/or alcohol; lack of sleep; and physical ailments, including headaches.
In fact, data from KGA, Inc., an employee assistance provider (EAP), show that employees need greater mental health support. Since spring 2020, KGA has witnessed:
A 12-15% increase in use of support for all emotional/mental health issues.

A spike as high as 70% in anxiety-related calls.

A 10% increase in work-related stress calls.
The time to intervene on behalf of your employees' mental health is now.
May is Mental Health Awareness Month
Mental Health Awareness Month is an opportunity for organizations to examine the wellbeing of their employees, de-stigmatize mental health help, and provide access to valuable information and resources for employees who are struggling. Of course, it is vital that managers and leaders create yearlong plans and advocate for their employees' mental health throughout the eleven other calendar months, as well.  
Organizations can demonstrate their commitment to employee mental health by undertaking measures like these.
Ensure one-to-one supervision happens routinely and incorporates mental health check-ins. Educate managers about the possible struggles employees may be facing, including burnout. Review the signs of burnout and offer resources to employees who are experiencing these symptoms.
Make supervisors and managers aware of the proper internal channels, including your EAP, to consult on employees' mental health challenges. 
Offer a suite of benefits that caters to the whole health of the employee, including psychotherapy services.
Designate one day a week as a day where no meetings take place. Employees can use this time to digest material presented during the week and organize their thoughts. If this is not possible, consider setting an expectation that staff can take two hours each week to attend needed appointments or engage in other wellness activities.
Set space aside to enable people to consult with mental health professionals via telehealth appointment as staff return to onsite work. Research shows that "telehealth is essentially just as effective as face-to-face psychotherapy—and retention rates are higher."
Designate one or more days a week as in-office days for work teams. Employees may be more willing to come in if they know others will be present. These interactions among staff may boost morale.
Start all meetings, whether in-person or virtual, ten minutes before the official meeting start to allow employees to join for informal interactions with their colleagues and discuss topics that may be on their mind.
Promote mental health awareness from the top and consider sending a mass communication from leadership regarding the mental health benefits available to employees.
Work with your EAP to host themed support groups (virtual or in-person) for employees who are navigating various life transitions, including caregiving, parenting, and divorce.
Work with your benefit partners to offer active, live promotions of your EAP and other support related benefits. Overwhelmingly this is proven to be the most effective way for employees to gain confidence in the provider. For example, ask the account managers from your EAP partner to provide overviews of available resources to staff. These kinds of promotions boost engagement in services two to four times over using written promotion alone.
CoronEx – It has a Cure
Burnout may have negative consequences on retention, productivity, teamwork/collaboration, and loyalty, thereby compromising the productivity of your organization. It contributes to increased resignations and the loss of talent across all areas of your enterprise. The good news is that this insidious condition can be mitigated with the proper support channels through your organization.
If your organization has not done so already, consider engaging a top tier provider of employee assistance services.  Some providers offer fully integrated and comprehensive services to employees who are struggling with life's challenges, from finding mental health support to locating childcare and everything in between.  Communicate to employees that your organization's culture is one that does not stigmatize and, instead, supports employees' whole health. The great panacea to the Great Resignation is demonstrable compassion for the everyday complexities of the whole person.
---
Abigail Calcagni, LICSW, Counselor, KGA, Inc.
[email protected]
Share this post: