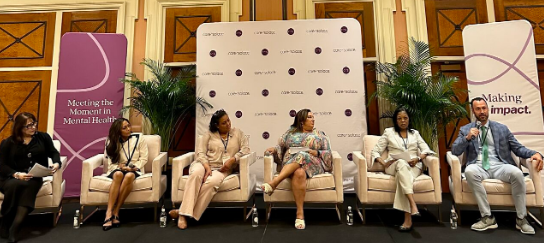 In an era where the significance of mental health is finally being acknowledged, a 300-person audience gathered in Las Vegas for a groundbreaking conference titled "Meeting the Moment in Mental Health: Real Community Solutions to the Mental Health Crisis."  Conference host, CareSolace, a trailblazer in mental health care solutions, holistically approached this topic with speakers who were leaders spanning state and local communities, public and private education, corporate and not-for-profit sectors, and, of course, healthcare. I had the privilege of representing NEEBC as a speaker identifying trends in Employee Benefits that focus on mental health.  My remarks aimed to illuminate a crucial aspect of this crisis: how employers can proactively address mental health concerns within their workforce. My focus was on simplifying access, advocating for affordability, and ensuring cultural relevance.  Any trends observed in this space offer insights into how employers can lead the way in nurturing a mentally healthy workforce.
Simplifying Access: The Gateway to Employee Wellbeing
One of the most formidable barriers to mental health care is the complex and often bewildering process of finding the right support. This conference emphasized the pivotal role that employers can play in simplifying access. By partnering with mental health care providers and platforms, employers can create streamlined channels through which employees can seek assistance.