Long COVID will be a top 10 medical cost driver within the next 3 years
What is Long COVID?

Long COVID is the persistent presentation of symptoms 4 weeks after a COVID-19 infection. There are over 150 different symptoms of Long COVID, but common symptoms include brain fog, fatigue, loss of smell, difficulty breathing, joint pain, digestive issues.
The scary part of Long COVID? It doesn't matter if you had a severe COVID-19 infection or you were asymptomatic. It doesn't matter if you were vaccinated or not. You are just as likely to get it[1].
But is Long COVID that common?
Long COVID is common and growing. Studies show that 30% of people who were infected with COVID-19 are likely to get long COVID[2].
Add to that the fact that the more often one is reinfected with COVID, the more likely long COVID becomes. With new Omicron variants and the persistence of the COVID pandemic over 2.5 years, the expectation is that most people will get COVID-19 multiple times over the next few years.
What are the economic impacts of long COVID?
Long COVID costs on average $2,500 per patient to treat[3]. This is on par with the typical cost of care for an employee with MSK.
That price tag omits additional pre-treatment costs. Often, long COVID patients undergo a number of tests and doctors visits before they eventually get a diagnosis, all of which are expected to increase over time due to deferral of care. Many people don't know they have long COVID, and if they do, they have to wait months to see long COVID specialists[4].
Long COVID also affects disability. Even 2 months after COVID-19 hospitalization, 50% of people are still not back to regular work schedules, due to long COVID[5]. In fact, COVID-19 and long COVID are estimated to be driving 15% of the labor shortage during the Great Resignation[6].
As more and more people get long COVID, this new cost driver will explode in direct medical spend and other areas like employee engagement, productivity, and retention.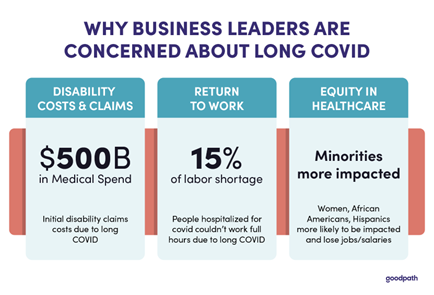 How to identify long COVID cases in employee populations?
There is a new ICD-10 code - U09.9 - that designates long COVID. Health plans can pull this, or depending on internal data robustness, it can be accessed directly from medical claims reporting.
How big of a problem is this for employers?
Diagnosing long COVID is hard. Since there is no consensus definition, or a test, it is up to primary care doctors and specialists to make this determination. This typically involves a multitude of tests and specialist visits to rule out anything more serious. This could take months. That is why Goodpath estimates that there are 10-20 times the number of employees with long COVID than appear in the claims data, based on the number of enrollees into its long COVID programs.
What are health plans doing about long COVID?
It is surprising that health plans are not focused on long COVID yet. Initially, many people assumed long COVID would go away due to milder infections from the Omicron variant. However, data has shown that it doesn't matter what variant you have - the likelihood of getting long COVID is the same.
Plus, care for long COVID is complicated - and complex care is not the strong suit of care plans. Plans also prefer to use existing care pathways to treat most conditions, but long COVID is too new and there are no cures for it.
So, what can be done for long COVID treatment?
For conditions that have many symptoms and no specific cure, the CDC recommends an integrative approach to care[7]. This includes a focus on exercise, diet, mind-body techniques, and over-the-counter medications.
When asked by employers for an opinion about addressing long COVID, we recommend solutions focused on a whole-person, holistic approach centered on conservative care that identifies and addresses many symptoms at once.  Perhaps something to include during this year's open enrollment?
---
Daniel Zanulbhai, VP of Partnerships, Goodpath, in collaboration with the Goodpath Medical Team
Email: [email protected]
Phone: 301-641-9927
Linkedin: https://www.linkedin.com/in/danielzainulbhai/
---
Share this post: