Biogen Working Parents Feel Supported with Onsite Child Care Center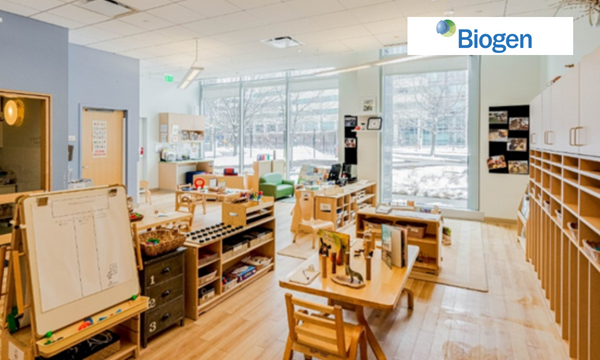 At Biogen, we understand the importance of taking a proactive position on caregiving and offer solutions to support our employees as both a caregiver and someone who may need care. 
Employee Needs in a Competitive Industry
As with most working parents, juggling childcare needs and career responsibilities can be a daily struggle. In the competitive biotech industry, employers always needed and still need to recruit employees by providing a supportive culture that understands and meets the needs of employees where they are in their life…whether it be access to reliable, high-quality childcare or workforce education initiatives. 
Benefits for Existing Employees and New Talent Recruitment
Biogen introduced Paid Caregiver Leave in 2021, and provides employees up to eight weeks of Paid Caregiver Leave benefits to care for a seriously ill family member, including a spouse, domestic partner, child, or parent.  Paid Caregiver Leave also may be requested by an eligible employee to care for a service member or veteran of the Armed Forces who is the employee's spouse, son, daughter, parent or next of kin, if the service member is: undergoing medical treatment, recuperating or in therapy, being cared for as an outpatient, or on the temporary disability retired list for a serious injury or illness related to active duty.
Beyond our Paid Caregiver Leave, our offerings include educational resources, advocacy, self-service tools, and live support.  We are especially proud to be celebrating 10 years of our onsite daycare center at our Cambridge, Massachusetts, location in 2023.  Biogen working parents are appreciative of the onsite center and agree it has enabled them to be more productive on the job.  
Employee Survey Results
In a recent parent survey, parents stated having the childcare center on site reduced the amount of stress they felt managing personal and professional demands.
Parents appreciate that center hours match their working hours, allowing them to worry less about their child(ren)'s safety, well-being, and socialization, and concentrate on their work responsibilities. Overwhelmingly, parents say that the on-site center was a major contributing factor to staying with Biogen.  
Employee Testimonials:
"My daughter enjoys her time there and has made leaving her at daycare a lot easier."

"We have been at the onsite center at Biogen for 4 years and we have loved our experience.  Our oldest daughter learns so much every day and I know both girls are so well taken care of. The teachers are so loving, warm, and professional.  I'm impressed every day with the activities they do with the kids and my girls are always happy to go to school."

"It is a vibrant place for the young kids to foster growth and development, develop social skills and independence.  The facility is clean and well organized.  Teachers are responsive and really good with communication."
---
A Win, Win, Win
Over the course of 10 years, hundreds of families and children have benefited from our onsite daycare center, utilizing the Infant, Toddler, Pre School, and Kindergarten Prep programs. Parents and children benefit from the education curriculum, as well as care and safety while attending the onsite childcare center.  The education programs, developed by early education experts, are research-based, and meet children where they are developmentally.  Teachers provide exciting learning experiences that support individual growth and development. At every age, the learning reinforces the concepts of math, science, language, social awareness, environment, art, and health.
The center was especially appreciated by parents when schools and daycare centers were closed during the pandemic, and having the daycare center has meant that more employees are willing to return to the workplace post pandemic.
---
Andrea Breheny, Benefits Manager with Biogen
[email protected]
617-679-2245
Rashna Karani, Benefits & Systems Analyst with Biogen
[email protected]
781-464-1954
Share this post: