Paid Family and Medical Leave Around New England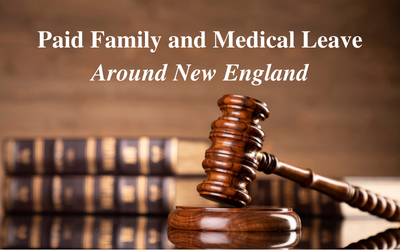 Last year around this time, I gave a year-one progress report on the Massachusetts Paid Family and Medical Leave (PFML) program, as it had finished its first year of paying out benefits to eligible workers. Since then, the MA PFML program has continued to mature and adjust according to experience, and, around New England, Connecticut has had PFML benefits available for one year, and there are related updates from Rhode Island, New Hampshire, Vermont and Maine to report.
Massachusetts: A Year in Review
In fiscal year 2022 (July 1, 2021 – June 30, 2022), the Massachusetts Department of Family and Medical Leave (DFML) experienced1:
Over 112,500 applications, with 20% being denied
59% of applications were related to medical leave, 31% for bonding, and 10% to care for a family member
Only 32 approved applications for military exigency leave and 7 approved applications to care for a service member
Claimants aged 31-40 had the most approved claims (40%) and more than 1.5 times as many women had an approved leave (61% of claims), compared to men (35% of claims)
Average weekly benefits were $793.55 for family leave and $754.84 for medical leave
Turnaround times from the time the application was submitted to an initial decision was a median of 17 calendar days
Average duration of leave was 12 weeks, assuming a 5-day work week
Total benefits paid was equal to about $603 million (an increase of about 245% from FY21 which accounted for January 1, 2021-June 30, 2021)
In 2023, Massachusetts will be updating maximum benefit amounts and reducing total contributions.
The maximum weekly benefit is increasing to $1,129.82, effective 1/1/2023. This is an increase of about $45 from the 2022 weekly maximum. For any employees who may have leave that runs from 2022 into 2023, the weekly benefit that was determined when leave was approved will continue. The new maximum will not be applied until there is a new MA PFML leave application.
Contributions, however, will be reduced in 2023. The total contribution is decreasing from 0.68% to 0.63%, for employers with 25 or more covered individuals. The medical leave contribution will be 0.52%, with employers funding 0.312% and employees responsible for up to 0.208%. The family leave contribution will be 0.11%, with employers able to collect the total contribution from employees. Employers with less than 25 employees are not required to submit the employer portion of premium.
The financial earnings requirement was also updated in 2023. Employees must have earned at least $6,000 and 30 times the PFML benefit amount during the base period to be considered eligible for MA PFML.
Connecticut: First Year Activity
Connecticut has now had PFML benefits available for 1 year. During the first six months of the program2:
Over 44,127 applications, with 40% being denied of those that received a decision
44% of approved applications were related to medical leave, 29% for bonding (own child and adoption/foster care), 18% for pregnancy/childbirth, and 9% to care for a family member
Only 15 applications were approved for family violence, 12 for organ and bone marrow donation, and 2 for qualifying exigency
Claimants aged 26-41 had the most filed claims (53%) and more than double the number of females applied for leave (28,814), compared to males (14,213)
Average weekly benefits paid were $562.01
Average approved duration of leave was 6.79 weeks
Total benefits paid was equal to about $81 million
Almost 137,000 businesses have registered with the CT Paid Leave Authority and claim applications have been received from every city and town in the state
Based on the experience in the state in 2022, Connecticut is not making any major changes to the program in 2023. However, the social security contribution and benefit base increased to $160,200 on January 1, 2023, and CT minimum wage increases to $15/hour on June 1, 2023, which will impact benefit and contribution amounts.
Please note that the program has some key differences when compared to MA PFML, such as the availability of leave for organ and bone marrow donation, as well as leave related to family violence. Differences in benefit amounts, leave duration, and eligibility conditions also make it difficult to directly compare CT and MA PFML experience.
Other New England Updates
Massachusetts and Connecticut are not the only New England states to be seeing PFML progress. Rhode Island has an established temporary disability insurance program (TDI), which was the first statutory disability program in the country, established in 1942. In 2014, they became the third state to offer family leave benefits through temporary caregiver insurance (TCI). In addition, the state does not allow private plans, making the model slightly different than other PFML programs in the region. On January 1, 2023, a few updates to TDI and TCI became effective. The state's taxable wage base increased to $84,000, which will impact the contribution calculation. The benefit duration also increased to 6 weeks, from 5 weeks in 2022. Finally, the financial eligibility conditions claimants must meet increased so that employees must have paid at least $15,600 in the base period or meet the alternative conditions wherein they earned at least $2,600 in one of the base period quarters and base period taxable wages equal to at least $5,200. 
A new outlier is New Hampshire's first-in-the-nation, state-sponsored voluntary plan where NH employers and eligible NH workers can purchase a paid family and medical leave plan through the state's insurance carrier. New Hampshire selected MetLife as its insurance partner and began paying benefits on January 1, 2023.
Similarly, Vermont spent 2022 developing a voluntary program to be administered by The Hartford, their selected insurance carrier. Beginning July 1, 2023, state employees will be covered under the program, with other private and public employers with 10 or more employees eligible for coverage in 2024, and small employers and individuals able to purchase coverage in 2025.
Maine also made strides in developing the structure of their state mandated PFML program. Maine created a commission to study PFML programs and to propose a PFML model for the state, which kicked off in May 2022. Policy recommendations are expected to be presented to the Legislature in 2023.  
---
Are You Up to Speed?
As the PFML landscape continues to evolve at the local, state and federal leaves, policies need to be monitored on an ongoing basis. Employers should ensure they are compliant with the requirements of each individual leave program, as differences exist between all established paid family and medical leave policies. If any of your employees are impacted by a state PFML policy, organizations should review plans, policies, and processes to confirm they are in line with any legislative changes. To do so, the following checklist can be followed:
Register in any new states where employees are located, if required  
Ensure contributions are being collected appropriately
Update employee notices and benefit documentation, as appropriate
Confirm employee count to determine if any changes to contributions are required
Review private plan strategies based on previous year experience and changes to contributions
Renew private plans as appropriate
Validate company sponsored leave programs coordinate with PFML to the extent possible
---
Grace Giannattasio, Consultant, Spring Consulting
If you need assistance ensuring PFML compliance or to assess the optimal plan set up for your organization, Spring's consultants are happy to help www.springgroup.com
---
1FY2022 Annual Report for the Massachusetts Paid Family and Medical Leave program
2Connecticut Paid Leave Annual Report 2022
Share this post: