Meeting the Moment in Mental Health: 3 Actions to Support the Workforce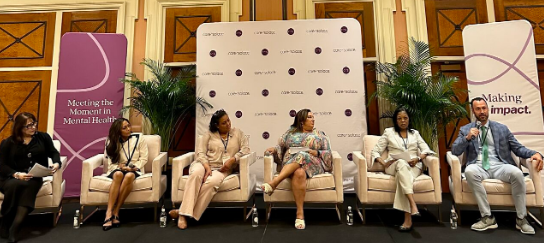 In an era where the significance of mental health is finally being acknowledged, a 300-person audience gathered in Las Vegas for a groundbreaking conference titled "Meeting the Moment in Mental Health: Real Community Solutions to the Mental Health Crisis."  Conference host, CareSolace, a trailblazer in mental health care solutions, holistically approached this topic with speakers who were leaders spanning state and local communities, public and private education, corporate and not-for-profit sectors, and, of course, healthcare. I had the privilege of representing NEEBC as a speaker identifying trends in Employee Benefits that focus on mental health.  My remarks aimed to illuminate a crucial aspect of this crisis: how employers can proactively address mental health concerns within their workforce. My focus was on simplifying access, advocating for affordability, and ensuring cultural relevance.  Any trends observed in this space offer insights into how employers can lead the way in nurturing a mentally healthy workforce.
Simplifying Access: The Gateway to Employee Wellbeing
One of the most formidable barriers to mental health care is the complex and often bewildering process of finding the right support. This conference emphasized the pivotal role that employers can play in simplifying access. By partnering with mental health care providers and platforms, employers can create streamlined channels through which employees can seek assistance.
Most health insurance providers have stepped up to offer behavioral health solutions to all employees and their covered dependents.  Employers might be surprised by fresh responses from their carriers to previously challenging mental health needs. So ask.
Implementing and actively communicating (then communicating again!) an Employee Assistance Program (EAP) is a prime example of simplifying access. These programs act as a bridge between employees and various mental health resources, offering counseling, therapy sessions, and referrals. Trending, too, are point solutions able to supplement this care, with the best examples complementing one another, not competing.  EAPs often offer training for front-line managers who have the best opportunities to stave off challenges before they become crises.  When organizations collaborate with these resources, they provide their employees with one-stop solutions, eliminating the confusion of navigating the mental health care landscape.
Never overlook Employee Resource Groups (ERGs), sometime called Affinity Groups, as trending, low cost solutions to mounting stress and other paths to mental illness.  Empowering ERGs to offer subject-matter experts and suggestions for accessing care both removes obstacles to access and the fear of judgment or stigma.
Making it Affordable: Valuing Mental Health as a Priority
For far too long, the cost of mental health care has acted as a deterrent for those seeking support. Employers, however, have the power to challenge this status quo by prioritizing mental health as an integral part of their employee benefits package. The conference highlighted the significance of making mental health care not just accessible, but affordable.
Offering comprehensive health insurance plans that cover mental health services on par with physical health services is a pivotal step. Additionally, partnering with mental health care providers to negotiate reduced rates for employees or offering subsidies for therapy sessions can significantly alleviate the financial burden of seeking treatment. When organizations invest in their employees' mental well-being, it not only reduces absenteeism and turnover rates but also fosters a culture of support and empathy.
Making it Culturally Relevant: Embracing Diversity in Mental Health Care
Cultural competence in mental health care is an often-neglected aspect, yet it is of paramount importance. My conference remarks underscored the role of employers in recognizing the diverse backgrounds, experiences, and needs of their employees.  EVERYONE has a story.
By collaborating with a diverse network of mental health professionals, employers can ensure that employees from all walks of life feel understood and supported. This might involve providing access to therapists who specialize in culturally sensitive care, as well as offering resources in various languages. Workshops and awareness campaigns that promote inclusivity and destigmatize mental health within the workplace can further contribute to a culturally relevant approach.  Nothing, however, is better than equipping front-line managers with ways to start and/or have empathetic conversations. The "win/win" lies in both leader and employee knowing their employer wants to help.
The Ripple Effect: Benefits Beyond the Workplace
The impact of employers leading the way in mental health care solutions goes far beyond the workplace. By prioritizing the well-being of their employees, organizations contribute to a larger societal shift in how mental health is perceived and treated.
When employees experience genuine care and support from their employers, they are more likely to be engaged, productive, and committed to their work. This, in turn, leads to a positive work environment and enhanced overall organizational performance. Moreover, the ripple effect extends to families and communities as employees and their dependents who receive adequate mental health care become better equipped to manage their personal lives, relationships, and social interactions.
---
A Call to Action: Rethinking Priorities
In the face of a mental health crisis, organizations have a unique opportunity to not only support their employees but also drive a broader change in societal attitudes.
By simplifying access, making it affordable, and ensuring cultural relevance, employers can lead the way in nurturing a mentally healthy workforce. Today is a pivotal moment in the journey towards holistic well-being, reminding us that when we prioritize mental health, we embark on a path of transformation that extends from the individual to the community, and beyond. As we navigate the complexities of life, both within and beyond the workplace, one truth becomes clear: meeting the moment in mental health is not just an obligation, but a powerful opportunity for growth and change.
---
Robin Antonellis, Executive Director, NEEBC
Email: [email protected]
LinkedIn: https://www.linkedin.com/in/robinantonellis/
Share this post: